Company Name
4C's Co., Ltd.
President and CEO
Akira Maruyama
Capital
332,000,000 yen
Date of establishment
March, 1999
Business
Real estate guarantor service.
Membership of professional Institutions
Country-wide Guarantee Organization
Tokyo Center for Removal of Criminal Organizations
Headquarters

〒105-0004 4C's Shimbashi 5137 BLDG. 5-13-7, Shimbashi, Minato-ku, Tokyo Japan
〒530-0001 Osaka Ekimae Daiichi BLDG 6F. 1-3-1, Umeda, Kita-ku, Osaka-shi, Osaka Japan

Customer Support Center

〒812-0013 4C's Hakataeki Higashi 195 BLD. 1-9-5 Hakataeki Higashi, Hakata-ku, Fukuoka-shi, Fukuoka
TEL : +81-92-433-3725
FAX : +81-92-441-3726
Open Hours : 10 a.m.-5 p.m. (Except New Year holidays)

ISO Certification
Certification Number ISO9001/Q1471
Privacy Policy
10861755(04)JISQ15001:2006
Web Site
URL : https://www.4cs.co.jp/english/
4C's GUARANTEE SYSTEM
4C's guarantee system is the service that 4C's will pay rent instead of tenants who made contract with 4C's when they cannot pay their rent.
Each country has different rules to rent a room. Today, it is general to use the guarantee system when people lease a room from a real estate agent in Japan. Most of landlords expect tenants to sign up the contract of guarantee system, and it is one of the important conditions to lease a room from real estate agents in Japan. In order to ensure untroubled living conditions for both of landlords and tenants, our guarantee system is necessary. 4C's understand that it is hard to get used to different cultures and customs, so let us support you when you try to start new life in Japan. The following inset shows you how 4C's guarantee system is concluded among landlords, tenants and 4C's.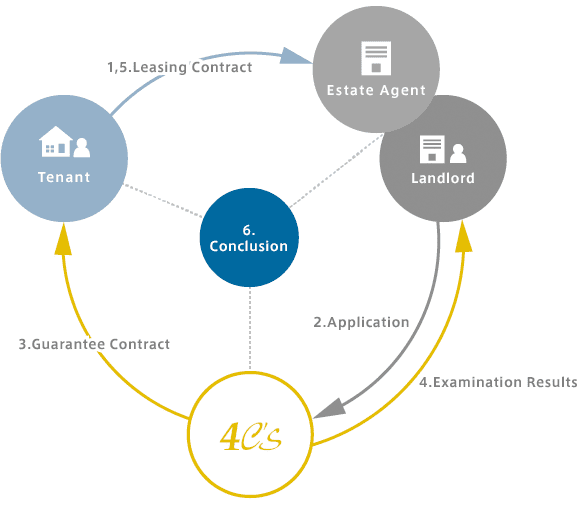 Tenants go to real estate agents to look for a room after they find a room which they like.
Real estate agents ask 4C's to guarantee the room they decided.
After 4C's receive the application from the real estate agent, 4C's examine tenants based on the information on the application.
4C's inform the estate agent of the examination result.
Tenants sign up for the lease after they pass the examination.
4C's guarantee system among 4C's, real estate agent and tenants is concluded.
*If tenants cannot pass the examination, 4C's cannot guarantee tenants or the room. After 4C's confirm all documents which are needed to conclude the guarantee system, the contract starts. If 4C's cannot confirm them, it is possible that the contract ends in failure. Please understand some important things about 4C's guarantee system listed below. Those are highly important part to make a contract, so we would like you to read them carefully and understand them certainly.
1. Object of contract
Objective condition-Almost every leasing property. Including residential properties such as flat and house as well as business use properties such as office and shops.
Contract Basis-To take out fire insurance. Basically, it is required to take out fire insurance when you rent a real estate property in Japan. 4C's would not ask tenants to join fire insurance as long they already got one.
2. About Application
It is impossible that tenants try to apply for the system individually. The contract has to be made through real estate agents. If there is no information about 4C's at the real estate agent that tenants already found, it is recommended that tenants tell the real estate agent that they would like to use 4C's.
3. Help desks
Please call 4C's Customer Support Center if you have questions.
TEL: +81-92-433-3725 / FAX : +81-92-441-3726 Business Hour: 10:00-17:00 (Except New Years holidays)
4. Documents Required
Alien registration certificate or residence card
Student ID (If you are a student)
Health insurance card (If you have a full time job)
Seal (You need personal seal for making the contract)
Copy of corporate registration and certification of resistred company seal in case the contract party is a company
*It is possible that we will require some extra paper works case by case.
5. About guarantee system and warranty scope
Monthly constant expenses (Monthly rent, common-area charge, etc…)
Monthly variable expense (Utility)
Expense after the end of the lease contract until the tenant is out of the room
Cost of proper legal process
Custody charge of chattels and personal property (10000yen/month)
6. Contract Term
From the date of the beginning of lease contract till chattels and personal property are out of the room completely.
7. About guarantee charge(initial cost)
In order to use 4C's guarantee system, it is necessary to pay guarantee charge. Basically, the charge amount is equal to the monthly rent (minimum charge is 35,000 yen); however, there is a few discount service.
30% of monthly house leasing fee (Minimum charge is 35,000 yen)
50% of monthly house leasing fee (Minimum charge is 35,000 yen)
8. Renewal fee
The contract term is basically one year. The contract will be automatically renewed. The annual renewal fee is determined by the number of times the tenant is in arrears of rent during the year.
The basic amount※ is equal to one month's monthly rent (minimum guarantee fee is 35,000 yen).
The fee is discounted to 10,000 yen if the number of times the rent has been overdue in a year is zero or one time.
If the number of overdue rent payments is 2 in a year, the fee is reduced to 50% of the basic amount.
No discount will be given if the number of overdue rent payments is 3 or more in a year.
However, the number of rent delinquencies will be reset after one year.
※Regardhing the plus plan,the basic amount is two month's monthly rent.
9. About overdue payment
When tenants fail to pay rent, tenants will have an obligation to pay expenses listed below.
Month guaranteed amount
Delay damages (bear interest of 14.6% a year)
Bank transfer fee

CLOSE